INTERNATIONAL PRESENCE
CIRSA Morocco
Agadir
In 2011, CIRSA began its operations in Morocco thanks to the acquisition of the casino Le Mirage, located in the coastal town of Agadir. Years later, it continued its progress by acquiring the Casino Atlantic, also in Agadir.
Both casinos offer the option of enjoying the leisure and entertainment in this tourist city on the Atlantic coast.
DESDE
2011
TELÉFONO
DIRECCIÓN
Secteur Balnéaire et Touristique Bp 194
80.000 Agadir. Morocco
CONTACT
info@cirsa.com
Casinos
2 Casinos
283 Slot machines
26 Tables
180.000 Annual visits
25 Annual events
Brands

Casinos Atlantic
It is the largest casino in the city with a great offer of slot machines, tables, restaurants and events which both local customers and tourists from all over the world can enjoy.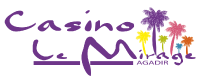 Casino Le Mirage
Casino Le Mirage is focused on local customers and European tourists visiting Agadir. It is a concept of a smaller casino with a personalised service.